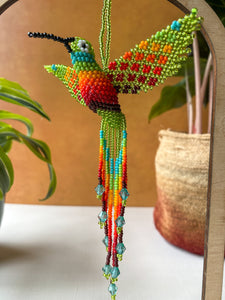 Beautiful! Such Detail and the colors are gorgeous!
This is my favorite beaded ornament! There is so much detail! Must have been very time consuming!
Colombia I miss you!
My last trip before pandemic was to Colombia! I have worn out all my cute bracelets. So when I saw these hummingbirds and bracelets . I had to get so many colors! It makes my life colorful and adds happiness to my day! I loved the quality, the vibrant colors. And the names of the artisans who crafted each item! Thank you so much! I bought some to gift away as well . Will be getting more!